Bradley Photographic Hosts: FREE MOVIE NIGHT " Rivers and Tides" Andy Goldsworthy Working With Time
Friday, April 14, 2023 (6:00 PM - 9:00 PM) (PDT)
Description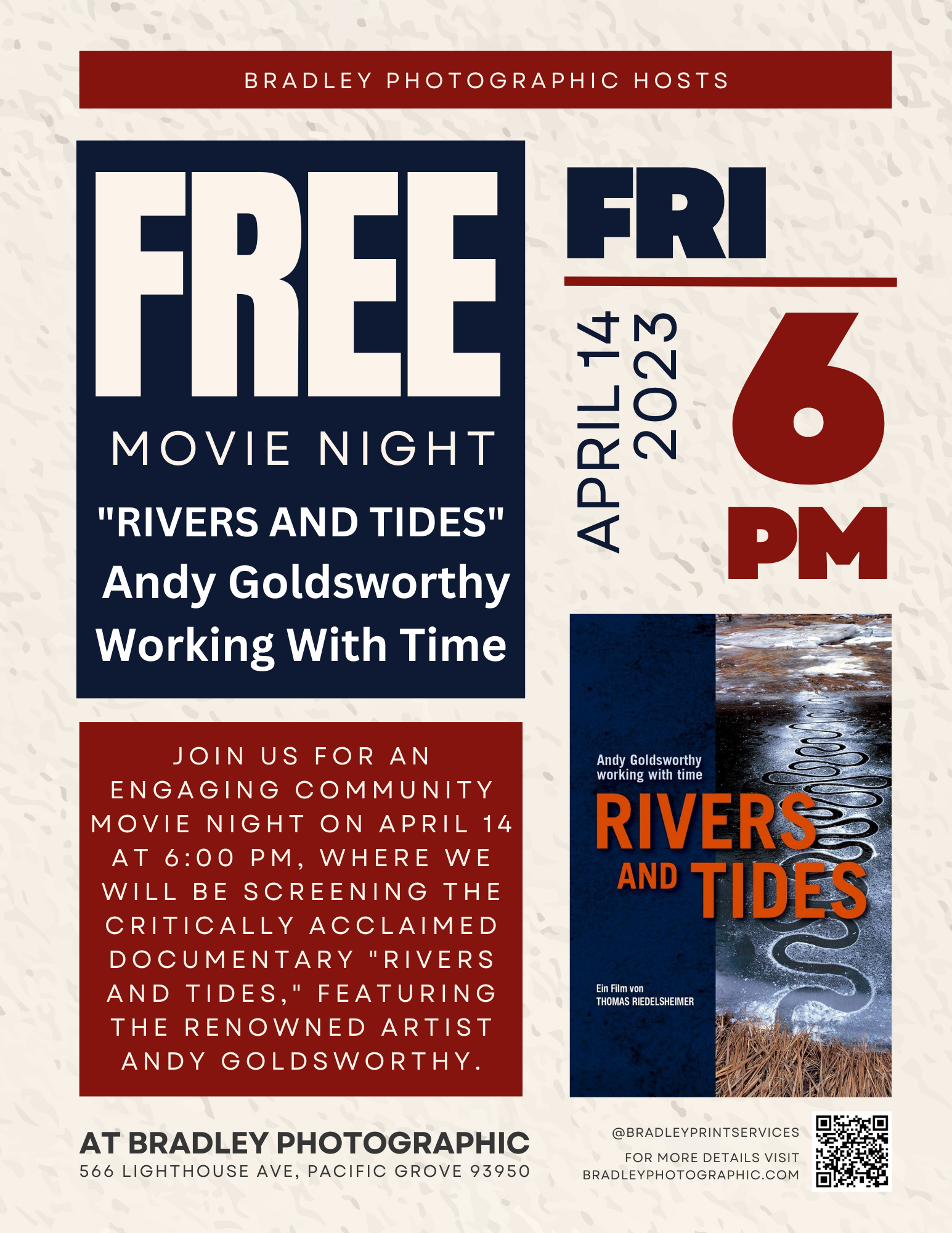 Join us for an engaging community movie night at Bradley Photographic on April 14 at 6:00 PM, where we will be screening the critically acclaimed documentary "Rivers and Tides," featuring the renowned artist Andy Goldsworthy.
This captivating film delves into Goldsworthy's extraordinary approach to creating art in nature, showcasing the beauty and transience of his ephemeral sculptures made from natural materials. "Rivers and Tides" offers a glimpse into the mind of a visionary artist and the creative process behind his mesmerizing works.
We welcome everyone to attend this special event, from art lovers and nature enthusiasts to film buffs and those simply seeking an inspiring evening. Prior to the screening, we will host a brief discussion on the nature of the creative process and the concept of creativity itself, fostering an enriching dialogue among attendees.
This community movie night is free and open to all. Join us at the Bradley Photographic gallery for an unforgettable evening of art, film, and conversation. Popcorn and refreshments will be provided to ensure a comfortable and enjoyable experience for all our guests.
Details can be found at:
https://www.bradleyphotographic.com/movienight
Bradley Photographic Bio
As a multifaceted photography center, Bradley Photographic combines fine art print services, comprehensive photography education, and unforgettable experiences. Our
print lab delivers stunning metal, canvas, and paper prints, film scanning, image development and editing, art reproduction, and photo restoration. Learn digital photography, workflow, studio lighting, iPhoneography, and Lightroom in our workshops, or embark on thrilling adventures like Kenyan safaris and shark dives in the Bahamas.
Images
Pricing
FREE MOVIE NIGHT!
Bradley Photographic
566 Lighthouse Avenue



Pacific Grove

,

CA

93950



Friday, April 14, 2023 (6:00 PM - 9:00 PM) (PDT)
6:00-9:00pm